Migrate Your Email Platform to Exchange 2007 & 2010 - Fast with MessageSolution!
MessageSolution's Enterprise class, high-performance Email Cross-Platform Migration System enables you move your email platform to and from GroupWise, Domino and Exchange in any direction. Also, you can archive before, after or during migration. MessageSolution can consolidate the multi-step project of migration and enterprise archiving into a single process as well as provide real time data reduction prior to migration, increasing efficiency and shrinking costs.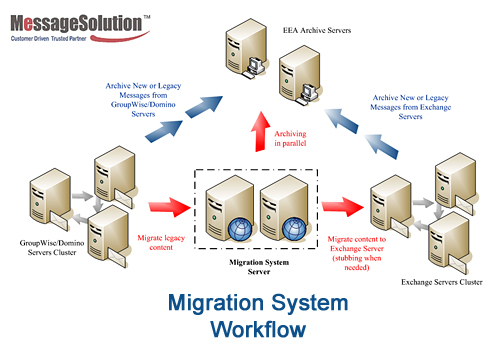 Click to review 2012 Gartner Enterprise Information Archiving Magic Quadrant, MessageSolution is ranked among leading vendors as the only enterprise class archiving provider that supports GroupWise platform.
Multi-Process with MessageSolution Enterprise Migration System
MessageSolution's migration system automatically migrates emails, calendar, address book, appointments, shared folders, distribution lists and more. Further, MessageSolution's migration system is multi-threaded, concurrently migrating multiple mailboxes at the same time to deliver an even faster migration process.


Save Time-Save Money


This advanced process reduces the amount of migration project time and related expense by a minimum of 50%. MessageSolution can easily save you hundreds, thousands and even tens of thousands of dollars compared to the competitors that process these tasks consecutively and not concurrently.



Email Migration, Enterprise Archiving and eDiscovery for Convenience and Compliance


MessageSolution's migration system can be implemented for compliance, eDiscovery and storage management, which is fully integrated with MessageSolution Enterprise Archive (
MEA
).
MessageSolution Enterprise Migration System

Compare Features & Functions

MessageSolution Enterprise
Email MigrationSystem

Competitors

Emails, Calendar & Address Book

Historical & Future Recurring Appointments

Proxy Rights

Nicknames & Aliases

Native GroupWise Archives without using PST Format

Archiving & Stubbing During, Before or After Migration (Optional)

Shared Folders & Distribution Lists

Compatible with Exchange 5.5, 2000, 2003, 2007, 2010

Compatible with GroupWise 6.5 - 8.0

Compatible with Domino 6.5 - 8.5

Compatible with Most Business Class Email Servers*

GroupWise, Domino Local File Migration

In-Process Compression

Integration with File Systems and SharePoint Archiving
MessageSolution - Your Email Migration and Enterprise Information Archiving Partner
MessageSolution, Inc. is the ideal partner for organizations evaluating the implementation of an eMail server platform migration. Migrate from and to the email platform and you decide whether to archive before or after migration. Typically considered a daunting task, MessageSolution's consolidates steps, provides for compliance and achieves an efficient, high-value migration experience.

To read more on MessageSolution Email Cross-Platform Migration System, click here:
http://www.messagesolution.com/Migration_with_MS.htm