Archiving from Domino
As Advanced Level IBM Business Partners, MessageSolution works closely with IBM to ensure that MessageSolution Enterprise Email Archive Platform supports all versions of enterprise Domino servers (6.5--9.0) and deliver transparent integration with IBM Notes for end users. MessageSolution Enterprise Email Archive Platform retrieves emails from the Domino server via DIIOP or Notes Connector. Click here to view the Gartner 2012 Enterprise Information Archiving Magic Quadrant.>>
Archive Management
Choose from scheduled archiving or real-time (Journal) archiving. Schedule when to clean up emails from your Domino servers for each mailbox; select when to empty Domino's Journal Box if archiving in real-time.
MessageSolution Enterprise Archive retrieves Public Folders, preserves users' mailbox folders and group information, allowing the administrator to selectively choose what mailboxes and folders to archive. Create email retention policies and manage the life cycle of corporate email data. MessageSolution Archive Platform monitors server storage and critical processes, and sends alert messages to the administrator. MessageSolution's built-in search engine also provides an audit trail of
archive access and search reports
.
User Management
MessageSolution Enterprise Email Archive for IBM Domino connects to Active Directory or Domino Directory to locate users for archiving. It checks the directory for added users, automatically updating the archive's user list. If a user is removed from the directory, MessageSolution Archive Platform allows the administrator to decide how to handle the situation (instead of automatically remove the user from the archve) — the administrator usually opts to simply disable archiving for that user, which will ensure previously archived data be saved in the archiving system. This user's individual archive can be easily assigned to a current employee.

Enterprise Email Archive also allows the administrator to create special 'archive-only' groups, which will not affect Active Directory or Domino Directory.
Indexing and Searching
MessageSolution Enterprise Email Archive's next-generation built-in database is designed specifically for today's high volume unstructured email messaging environments and search with precision. MessageSolution search engine technology for IBM Domino delivers BCC/Alias Group emails, Calendar Items, and Contacts in addition to all captured emails and attachments for a comprehensive search result requirement of enterprises' compliance audit, litigation court order supports, and to enable HR managers and organizations with IP protection from leaving employee's critical or massive data deletion, unlike some of the email archiving vendors' search engine in the marketplace that missing these search items that gives the edge to win in court and obtain favorite position in arbitration proceedings. Enterprise Email Archive indexes every piece of data that enters the archive without utilizing SQL or other third party databases.
IBM Notes/Lotus Notes Integration
MessageSolution Enterprise Email Archive web interface allows end-users to search for data as conviniently as they perform a Google search. Enterprise Email Archive Suite Edition also integrates with users' IBM Notes/Lotus Notes client via Notes Template or MSI Installer, giving users access to view or restore their archived data without leaving their IBM Notes mail client. MessageSolution Enterprise Suite Edition also provides off-line archive access, as well as access from mobile devices such as iPhone, BlackBerrys and PDAs.
Migration from Domino Servers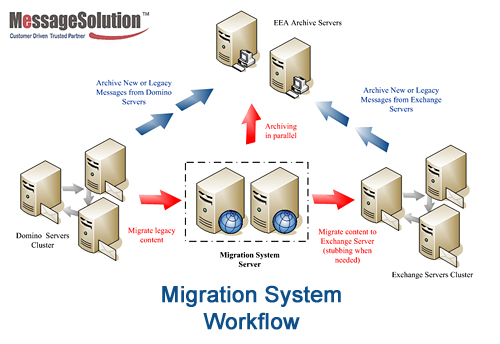 Click on the image to enlarge