MSP Deployment – Customer Activation 10-Step Quick-Guide
Pre-Implementation


1. Configure the Exchange Server
2. Open Ports
3. Create a Service Account



Archiving System Installation


4. Load Installer
5. Launch Installer



Company Profile & Server Authentication


6. Create Company Profile
7. Authenticate Email Server



Archiving System Configuration


8. Configure Archive Settings
9. Conifgure Scheduled Archiving (Optional)
10. Enable Real-Time Archiving

To review the 10-Step Quick Guide, click here to contact MessageSolution MSP Account Executive >>



Document Preview




Step 7. Authenticate the Email Server


Click on the Company name to open the Company's Profile. Under basic settings authenticate Company email server information to integrate with Active Directory. After you retrieve users, make sure you retrieve folders for the archiving enabled users. Note: without folders, MessageSolution Enterprise Archive will not archive from individual user mailbox. After you retrieve folders, go to User Management, click on Edit on a user, go to Folder Setting, when folder retrieving was successful, you should see multiple folders listed. If it only shows Inbox and Sent folders, it means it did not retrieve folders successfully. You can check WebDAV or EWS setting, and double check if permission is granted properly. These steps are detailed in Exchange Server Configuration document.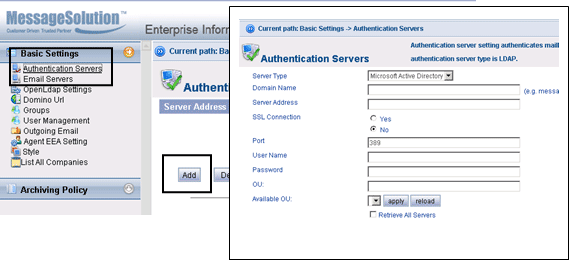 To access the full document and for a technical discussion, click here to contact MessageSolution MSP Global Network >>