Migrate to MessageSolution Platform with Your Office 365 Plans:
Save Time, Money, Maintain System Stability & Geo/DR Protection

1-Vendor Solution - Migration, Compliance Archiving & eDiscovery
Not only can MessageSolution migrate data from on-premise Exchange, Domino, or GroupWise, etc to a hosted email platform such as Microsoft Office 365, but also save time and financial resources during the process. After the email migration, most organizations will need to archive their data. MessageSolution turns a laborious, multi-vendor procession into one streamlined and painless process. MessageSolution takes a one-vendor approach of end-to-end project management through data migration, compliance archiving and eDiscovery management to MessageSolution Platform which eliminates the need for projects of separate solutions for migration, archiving, eDiscovery, and file storage migrating to the cloud etc. When multiple vendors are involved in the process, costs go up and deadlines get extended, where system compatibility and integration also become an issue.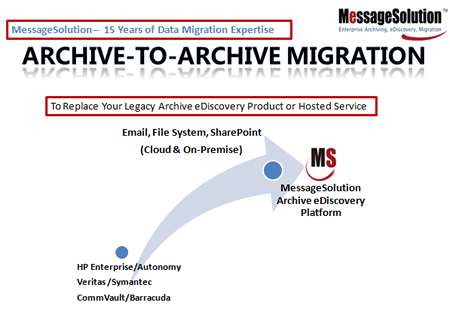 By archiving data before migrating, an organization is consolidating and protecting data, while avoiding O365 premium fees for the stale and long-time less being used or not being used inactive mailboxes or file data. MessageSolution Enterprise Archive eDiscovery Platform™ delivers a federated system, easily backed-up yet secured data store for all email and file data (messages, attachments, PST files, Public Folders, calendars items, contacts, OneDrive files and SharePoint documents, etc.). It provides an alternative to the Office 365 SLA in case of bulk data export. Should your organization need to archive and access data outside the Office 365 environment, MessageSolution provides an exit plan that may be necessary for unforeseeable reasons.
Archiving data before migration also reduces the volume of email data needed to migrate to Office 365 from your on-premise email server(s). During the archiving process data is de-duplicated, compressed and the storage burden is transferred to the second tier archive storage from the email, file servers and SharePoint servers to the MessageSolution Archive Platform (on-premise or cloud) to significantly save on the cost, comparing to the premium storage rates of O365's Exchange Online, OneDrive and SharePoint Online. Since archived data can be viewed and accessed at any time from the MessageSolution Archive Platform web portal or the transparently integrated Outlook client, only the 20% of the links or stubs need to be migrated to the Office 365. After archiving, we connect to the Exchange Online with directory service integration and selectively replicate the contents to Office 365 through the native protocol.
In the long run, MessageSolution Platform implemented partially or entirely becomes a cost effective solution that delivers quality archiving services and a seamless experience for the end user.
With 15 years of expertise in compliance archiving and advanced eDiscovery industry, today MessageSolution's global customers are onboard with and protected by MessageSolution's high grade Compliance Archive & Advanced eDiscovery Platform for compliance and eDiscovery management at fraction of Microsoft's premium cost for E3 and E5 plans - with 70% savings on-premise solution and 55% savings on MessageSolution Cloud Archive eDiscovery Platform. So why pay more when you can pay less for more?
For further information on MessageSolution Migration System to Office 365, plesae contact us to schedule a technical discussion at 408-383-0100 or salesdesk@messagesolution.com.