Advice on developing a corporate email policy and preparing for the possibility of electronic discovery and litigation hold:

As electronic discovery (eDiscovery ) evolves, corporate counsels will encounter increasingly challenging complications associated with uncovering electronic documents. With electronic information so critical to many of today's cases, backing data up to tapes is no longer a viable retention method. Realizing the scope of their needs, many companies turn to third party vendors to perform the traditional legal discovery process.



MessageSolution Data Redaction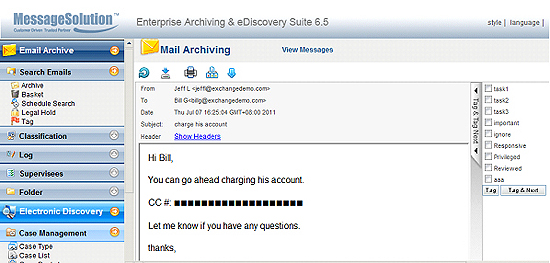 Traditional electronic discovery methods can be extremely expensive and time-consuming. In fact, very often they fail to produce the required evidence by the date mandated. Judges are increasingly less likely to accept that documents were lost, deleted or not able to be recovered in a timely manner. Some judges even consider late electronic evidence submissions signs of carelessness or willful concealment. Many companies have been levied hefty fines for not producing evidence in time or at all.

When faced with the high price and possible fines involved in outsourcing the eDiscovery process to legal forensic specialists, many organizations are considering in-house and SaaS
archiving for electronic discovery and litigation
hold as the answer to increasingly demanding discovery requests.
Policy Development

Legal counsels should play an active role in developing a company's email policy, taking part in an initial steering committee. After the policy is established, many companies create a review committee composed of members from legal, human resources, IT and other departments to approve and record any changes made to the policy.



Electronic Discovery


Changes to the Federal Rules of Civil Procedure, such as FRCP Rule 26, FRCP Rule 34, FRCP Rule 45, etc., stipulate that potential documents required in a case can originate from any data, as long as it is assembled into a visible form.


Data Considered Critical Evidence:
Judges are increasingly less likely to accept that documents were lost, deleted or not able to be recovered in a timely manner. Some judges will consider late electronic evidence submissions signs of carelessness or willful concealment. Many companies have been levied hefty fines for not producing evidence in time or at all.

Locating electronic data presents a large set of challenges. Often the requested digital documents are not centralized, due in part to users' local archive files (
PST, NSF and GroupWise files
); multiple employees' computers may need to be searched, along with corporate servers. Requested versions of a document may have been lost or deleted.

Due to the casual nature of email and instant messaging, many employees say things they would never think of saying during a meeting, in a memorandum, or in a letter. The electronic format also befuddles some employees, who assume that hitting the delete button erases all records of inappropriate emails or condemning files. Sometimes incriminating electronic documents that employees thought had been deleted are recovered due to the nature of electronic media. These situations can result in unwanted exposure, large fines, and loss of stockholder or customer trust.
Privacy Data Leaking Protection with Data Redaction
Privacy-law or PCI compliance driven archiving: scheduled search to retrieve and monitor all personal data including numbers for credit card, social security, patient ID, medical diagnosis codes, driver license etc and place redaction on these sensitive information before serving case-related documents with these blocked sensitive data to opposing legal team or serve the court mandate.
Be Proactive
Fortunately, companies can take proactive steps to avoid litigation, fines, and exposure.
MessageSolution Enterprise Archive & eDiscovery Suite
can automate records retention policy, ensuring all employees are in compliance with corporate policy. With all your company's possible evidence centralized and streamlined in collection folders, you reduce the risk of losing or overlooking evidence. By regulating internal auditing and providing HR support, Enterprise Email Archive and Enterprise File Archive minimize the occurrence of fraudulent activities and help companies avoid unwanted exposure, lawsuits, or penalties.
Proactive Archiving Features:
Emails, attachments, and electronic files can be securely stored for an unlimited period of time
Audit trail of archiving and user activities in the archive
Online and offline security eliminates the possibility of accidental data deletion.
Files are backed up for disaster recovery
An Effective eDiscovery Solution
MessageSolution Enterprise Archive and eDiscovery Suite help to make the eDiscovery process quicker, easier, and less expensive. With functions such as Early Case Assessment, Legal Review, Data Redaction, and Team Collaboration, MessageSolution's intelligent search engine is integrated with all email, file systems, and SharePoint archiving software, eliminating the cost of purchasing additional databases. The straightforward
search engine
allows users to search according to a variety of parameters. Full text key word and key phrase searching allow users to locate and retrieve emails, attachments, or files according to very specific or broad search terms. Restore emails and files to their original format with a click of a button.
Enterprise Email Archive is a more effective email discovery tool.
Built-in search engine indexes all contents and metadata, including subject, attachment, sender and recipient information
Easy, quick searching by date, size, sender, file type and even full text key words and key phrases
Preserves the integrity of original documents, which can be searched for and retrieved on site or on the move
Easily download, send or open archived emails
Avoid fines for not meeting deadlines, fees for legal forensic specialists, and hours of frustration—start archiving your emails, file systems, and SharePoint files to achieve eDiscovery readiness now. For more on MessageSolution's eDiscovery and litigation support features, visit our
Archiving for eDiscovery and Litigation Support Features
.