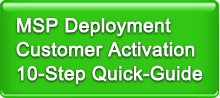 Product Excellence Awards

2012 Golden Bridge Awards Finalists

SSAE 16 Type II Data Centers

Best Archiving Solution 2010

MSExchange.org

Best of TechEd 2009

NETWORK PRODUCTS GUIDE

Best Products & Services 2009

2008: IBM Lotus Award for Best Messaging and Collaboration Solution nomination (Enterprise Email Archive 5.0)

NETWORK PRODUCTS GUIDE

Best Products & Services 2008

2007: Winner of Dostor Storage Award (Enterprise Email Archive 5.0)
MessageSolution MSP-Hosted Archiving & eDiscovery Platforms
MessageSolution Multi-Tenant & Dedicated Archiving Solutions

MessageSolution's award-winning MSP-Hosted Multi-Tenant and Dedicated Hosted Platforms enable MSP/ISP partners to provide enterprise-class solutions to both SME and large-scale clients.

The MSP-Hosted model is designed to increase compliance archiving and eDiscovery services, profitability, client retention and more. MessageSolution Platforms also provide additional MSP revenue opportunities through professional engineering, configuration and consultation services.

The MessageSolution MSP-hosted platforms are industry-leading packaged software solutions deployed in hosting partners' datacenters or cloud networks. New clients can be implemented for real-time archiving within 10 easy steps.
10-Step Customer Activation Quick Guide




MessageSolution Enterprise Multi-Tenant
Archiving Platform System Architecture
Click to Enlarge


MessageSolution MSP-Hosted Platforms
First in the market, the MessageSolution MSP-Hosted Platform is designed to increase service provider revenue by over 300% with enterprise-class archiving and eDiscovery functionality for SME organizations. Archive for hundreds of thousands of users in a clustered environment or 25,000+ users from multiple organizations on one server. This drastically reduces hardware and storage costs. Give each client an independent archiving experience with little to no daily maintenance, on-line global support and a highly interactive data store with granular access controls. While the multi-tenant platform is ideal for SME clients, MessageSolution also offers an MSP-hosted dedicated platform for enterprise organizations.


Benefits Include:

•

Leverage Marketing and Sales Collateral

•

Increased Revenue Opportunities

•

White Labeling and Solution Rebranding

•

Sales Support & Technical Product Demos

•

Online Global Deployment

•

Enhanced Technical Support
| | |
| --- | --- |
| | Transitional Hosting Program |
MessageSolution leverages a unique hosting partner program to implement hosted archiving as painlessly as possible. For the first period of the transitional hosting progam, MessageSolution will host end-client data and manage the archiving server while working with our hosting partners to provide hands-on product training. Once comfortable with the platform and data workflow, Partners can incrementally take over hosting duties and management of client archiving.




Multi-tenant solution deployment, implementation, historical data ingestion and comprehensive system training may take some time. Instead of waiting months to onboard clients,

the MessageSolution technical support and development team works with the Partner to dually manage and support their clients while simultaneously deploying the multi-tenant or dedicated platforms in the MSP datacenter for an instant ROI and hands-on (as opposed to lecture or demo-style) training. Once familiar with the MessageSolution platform and procedures, clients are migrated to the MSP-hosted solution.
Supports Varied & Clustered Email Server Environments

MessageSolution Enterprise Email Archive Multi-Tenancy & Dedicated Hosted Platforms are uniquely designed to support partners with multiple mail server environment for Exchange, Domino, GroupWise, and full line of Unix/Linux based servers such as Postfix, Postpath, Imail, Qmail, Scalix, Zimbra, Kerio, or Sun Server, etc. MessageSolution archiving system can also be deployed cross platform on Linux OS, the popular and economical platform.

MessageSolution also supports archiving for multi-server email environments; clustered email servers, servers in different geographical locations or multiple email providers.
Features Include:

•

Supports multiple tenants & multiple repositories; one server machine archives for hundreds of SME organizations.

•

Supports all major enterprise messaging servers (Exchange, Notes Domino, GroupWise, Linux-based email server platforms, Sun)

•

Deployed on Linux or Windows OS

•

Seamless integration with Outlook, Lotus Notes, GroupWise Client

•

Advanced eDiscovery and mailbox management features

•

Provides customers with best-of-breed performance and features

•

Industry-leading scalability, archiving as many as approximately 25,000 users on each single archiving server, 5 times more than competitive products on each single hardware server.