In today's legal world, a vast number of cases involve electronic discovery. Demands for eDiscovery can be overwhelming without an effective retrieval system in place.

The Challenges

Electronic Discovery
The U.S. Supreme Court's 2006 amendments to the Federal Rules of Civil Procedure (FRCP) acknowledge the importance of electronic documents to the discovery process. FRCP Rule 26, FRCP Rule 34, and FRCP Rule 45 stipulate that potential documents required in a case can originate from any data, as long as it is assembled into a visible form. This includes everything from emails to financial spreadsheets to calendar files. For a more comprehensive list of documents eligible for electronic discovery requests, visit our Solutions page for eDiscovery and Litigation Support.

MessageSolution Data Redaction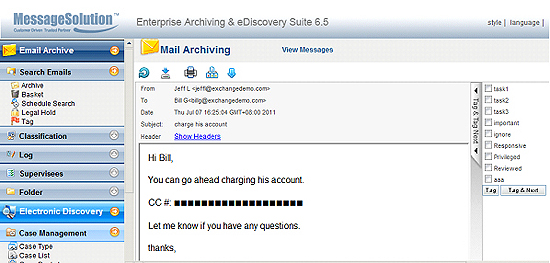 Law.com reported in 2002 that more than 90% of all documents produced since 1999 were digital. Once treated as a liability, many companies now realize that email, attachments, and other electronic files are valuable assets which need to be protected with the same level of care as accounting records. With so much of today's discovery in electronic formats, many organizations have implemented an electronic data retention system to mitigate risk and prevent exposure. Accidental deletions or the inability to retrieve email and electronic records can leave companies legally exposed.


Centralization

--

A centralized repository of electronic records containing all historical emails or files for the legal team's easy access is the key to bypassing hours spent searching hundreds of backup tapes or individual employees' files.

Automation

--

An automated email or file archive will back up and securely store data in one place, making sure nothing of value gets lost or deleted.

Search Capability

--

Finally, a user-friendly search engine designed specifically to accurately search through high-volume unstructured environments in seconds makes retrieving evidence as easy as performing an advanced Google search.
Storage
Many firms, in an effort to "go green", rely on electronic formats for their communications with clients, judges, and other attorneys, as well as for creating and storing legal documents. Obviously, it is important to retain these records. However, storing large files and long emails can be overwhelming for email and file servers, often leading to increased energy usage, slow performance, system crashes, and data loss. Large storage volumes can be offloaded from the primary server to a more
efficient storage and archiving
device.
What Can Our Archiving and eDiscovery Solutions Do?
MessageSolution Enterprise Email Archive can securely store inbound, outbound, and internal communications for an unlimited amount of time in a centralized email archive. Enterprise File & SharePoint Archive supports more than 400 file formats and integrates with Windows' desktop search feature. Once installed, the products automate your retention policy, ensuring no important data is lost.
Improve eDiscovery Processes
Implementing Enterprise Email Archive, Enterprise File & SharePoint Archive for eDiscovery allows legal professionals to be proactive about eDiscovery requests. With a full line of eDiscovery functions such as Case Management, Early Case Assessment, Legal Review, Team Collaboration, and Redaction, etc., locating requested evidence is much easier when all communications and files are culled down for further review and discovery. PST, NSF and GroupWise local files can be managed centrally from the archiving and eDiscovery system too, with
MessageSolution Enterprise Data Migration System
. Desktop archive files can be assigned to specific employees' archive accounts once files have been migrated.

The archive's built-in search engine renders the traditional electronic discovery process obsolete. Search for emails, files, and attachments by date, sender, recipient, size, file format, subject, and any content words or phrases using full text search, Boolean logic and fuzzy search. Narrow your terms and search within search results if the results are too broad. Save search results in a basket to share or revisit at a later date. Our email and file archives even save a list of each users' top 10 search terms, to make searching faster. No classes or calls to IT are required to search through these archives, as our user interface is renowned for its intuitiveness. To see just how user-friendly the GUI is, view product screenshots from the back page of our
Email Archiving Data Sheet
.

Once identified, evidence can be retrieved with a simple click. Restore evidence to the email server to print or send files. Files can be returned to their original format as well, with MessageSolution's built-in file conversion tool. Ask about our file conversion tool during your
FREE ONLINE PRODUCT DEMO
.
Reduce Storage Requirements
"Going green" doesn't have to mean sacrificing server performance with MessageSolution's archiving software. Offloading emails to Enterprise Email Archive helps email servers function at top speed again, while stubbing email and attachment content keeps data from building up again. Data is stored more efficiently on Enterprise Email Archive, Enterprise File & SharePoint Archive because of multiple features designed to slow storage growth. Archiving email, file and attachment compression rates average about 75%, among the highest in the industry. Single instance archiving of emails, files and attachments keep redundant data from finding its way to the archive. Finally, an advanced filtration system keeps personal and junk mail from taking up valuable storage space in Enterprise Email Archive.

Storage costs decrease significantly when storage space requirements are reduced to a quarter of the original size and organizations have the freedom to store data on any storage hardware device. Enterprise Email Archive, Enterprise File & SharePoint Archive support inexpensive and pricey hardware equally well, while effectively facilitate hierarchical storage management by allowing customers to designate multiple repositories. Learn more about MessageSolution Enterprise Archive Suite's
storage management features
.
Ensure Compliance (for Corporate Legal Counsels)
In corporate settings, IT management can help the legal department by automating and enforcing corporate policy with archiving software that gives administrators feedback if employees attempt to violate policy, allowing management to pinpoint problematic behaviors and reducing the risk of repeated intelligence exposure, deletion of evidence, and system misuse. Enterprises can
achieve compliance
, which reduces the threat of civil suits and the accompanying negative exposure, while ensuring investors and customers feel secure. Enterprise Email Archive provides a log of all archiving, search, retrieval, and archive access, alerting administrators when policy has been violated. By regulating internal auditing and providing HR support, Enterprise Email Archive minimizes the occurrence of fraudulent activities and helps companies
avoid unwanted exposure, lawsuits, or penalties
.
Features Benefitting Legal Professionals:
Case Management, Early Case Assessment, Legal Review, Redaction, and Team Collaboration
Emails, files and attachments can be securely stored for an unlimited period of time
Built-in search engine indexes all data, including subject, content, attachment, sender and recipients' information
Access evidence immediately—no need to restore files, then search again
Intuitive user interface means no need for IT support every time evidence is needed
Easily download, send or open archived emails and files
Restore archived data to original format when required
Audit trail of archiving processes
User archive access and search activity reports