FOR IMMEDIATE RELEASE
MessageSolution Email & File Archive Enterprise Suite Named Best of TechEd 2009 Awards Finalist by Windows IT Pro & SQL Server Magazine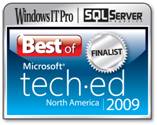 Milpitas, California, May 5, 2009 -- MessageSolution, Inc., the global technology leader in email and file archiving solutions for electronic discovery, litigation support, compliance, and storage management, today announces that MessageSolution Email & File Archive Enterprise Suite has been named one of three finalists in the Best of TechEd 2009 Awards in the Business Intelligence category. The Best of TechEd Awards are conducted by Windows IT Pro and SQL Server Magazine.

MessageSolution Email & File Archive Enterprise Suite is a comprehensive on site software solution for managing enterprise intelligence and preparing for audits, electronic discovery, and litigation requests.

MessageSolution was selected as a finalist from among almost 200 individual product entries by Windows IT Pro and SQL Server Magazine's panel of judges. Other distinguished finalists include global technology leaders such as Cisco, HP, NetApp, and more. "We are very excited that our newest solution, MessageSolution Email & File Archive Enterprise Suite, has been named a finalist in the Business Intelligence category," said MessageSolution Chief Technology Officer Jeff Liang. "MessageSolution's unified email and file archive contains powerful business intelligence tools that allows businesses to mine for business-critical data in both corporate email and file archives in one search interface."

MessageSolution is among the first in the archiving industry to provide an enterprise-level archiving suite that allows both email and file archives to be installed on one server, thus reducing enterprise hardware requirements. Both email and file archives can also be accessed from one central user interface, thereby streamlining corporate intelligence management and increasing productivity by making enterprise search infinitely more thorough.

MessageSolution Email & File Archive Enterprise Suite support Microsoft Exchange Server, IBM Notes Domino, Novell GroupWise, major Linux-based email servers, and file servers. Integration with Outlook Web Access/Domino Web Access and Outlook/Lotus Notes client assures that data is always transparently available at employees' fingertips, just a double click away. Versioning allows businesses to analyze the development of corporate data. Employee email and file usage and behaviors can be monitored, as can the contents of messages and files.

MessageSolution Email & File Archive Enterprise Suite provide a variety of built-in reports and reporting functions that allow businesses to analyze how emails, attachments, and files are being used, who is sending what data to whom, and discover what intelligence is contained in the corporate email and file database.

Supervisors, administrators, and legal review teams are able to comb the full corporate knowledge database, automate data classification application, manually tag/flag archived data, add review notes, and analyze message and file pathways. "The winners will be selected by a judging panel of editors from Windows IT Pro and SQL Server Magazine, and are evaluated based on each finalist's strategic importance, competitive advantage, and value to customers," wrote Jeff James, Editor-in-Chief, Web Content Strategist for Penton Media's IT Publishing Group.

Best of TechEd Award winners will be announced onsite at TechEd at the Windows IT Pro and SQL Server Magazine booth during lunch on Thursday, May 14, 2009.


---
About The Windows IT Pro Group
The
Windows IT Pro
community is the heartbeat of the Windows IT world—a gathering of people, content and resources focused on Microsoft Windows technologies and applications. It's a "community" in every sense, bringing an independent, uncensored voice to IT managers, network and systems administrators, developers, systems analysts, CIOs, CTOs, and other technologists at companies worldwide.

Knowledge is shared throughout the community on a daily, weekly and monthly basis via
Windows IT Pro
magazine,
SQL Server Magazine
,
OfficeSharePointPro
Web site,
WindowsDev Pro
Web site, and a variety of other channels including blogs, forums, podcasts, white papers, newsletters, videocasts and more. Visit
www.windowsITpro.com
today to learn more.

For more information visit
www.windowsitpro.com/awards
.



About MessageSolution, Inc.


MessageSolution is a technology leader in email and file archiving for electronic discovery, compliance, and content storage management. MessageSolution's products enable organizations to mitigate risk, reduce costs and storage requirements, optimize server performance, and comply with industry and federal regulations. Based in Silicon Valley, California, MessageSolution maintains operations in North America, Europe, and Mainland China, along with distribution channels in Europe, Africa, Australia, and Asia Pacific.

MessageSolution's award-winning products, Enterprise Email Archive and Enterprise File Archive, are cross-server onsite archiving software applications. Both products serve organizations across all industries, including finance, health care, education, manufacturing, government agencies and non-profit organizations worldwide. MessageSolution's products free IT administrators from daily maintenance and increase overall employee productivity. For more information, visit http://www.messagesolution.com.

MessageSolution is actively working with partners around the world to expand its worldwide business presence. Please visit our web site for more information on the Global Partner Network Program.
What Differentiates MessageSolution Products
Customers continually emphasize MessageSolution products' excellent overall performance, support of all major email servers, and ease of use. MessageSolution provides sub-second data retrieval, an intuitive interface, and ease of deployment and maintenance. MessageSolution's intelligent back-end design significantly reduces installation requirements, backup time, and the need for technical support.

MessageSolution Enterprise Email Archive™ deftly manages petabytes of data daily, a powerful enterprise archiving solution. Electronic discovery and litigation support are empowered by the archive's built-in search engine, which searches through millions of emails within seconds across global locations and data centers. Users can access their archive through their email client, browser, or BlackBerry.

MessageSolution delivers the industry's highest enterprise-level scalability and holds the industry record of archiving 11,000 users on one single MessageSolution archive server. Competitive vendors archive on average 3,000-5,000 users on a single archive server, much less than MessageSolution archiving system's scalability and flexibility.

A high in-process compression rate combined with single instance message and attachment archiving slows archive storage growth. Enterprise Email Archive™ further reduces organizations' storage costs by using only 30% of the original mail server storage space for live content archiving. MessageSolution's
---
Media Contact

Tammie Caton

Caton Marketing

5905 Airport Blvd, Suite G

Mobile, AL 36608

Phone (251) 316-3744

Fax (206) 202-3621

tammie@catonmarketing.com
---