Office 365 to G-Suite or G-Suite to Exchange Online Cloud-to-Cloud Migration
Cost Effective Compliance & Data Governance With eDiscovery, Archiving & Intelligent Backup
MessageSolution MCloud Online Services enable enterprise customers to effectively manage global compliance, eDiscovery and archiving for intelligent backup processes during the email migration process from Office 365 to Google G-Suite, or vise versa.
Either your security officer can no longer tolerate the 30% of phishing passing through to end users' inboxes daily in your Exchange Online Office 365 environment ("Global Phishing Report 2019" by Avanan), or your top executive who is "Windows-Generation" and insists in having the fancy Microsoft Windows/Outlook features and functions and can never get used to G-Suite's workflow, the cloud-to-cloud email migration between the top 2 cloud email platforms becomes eminent for your team.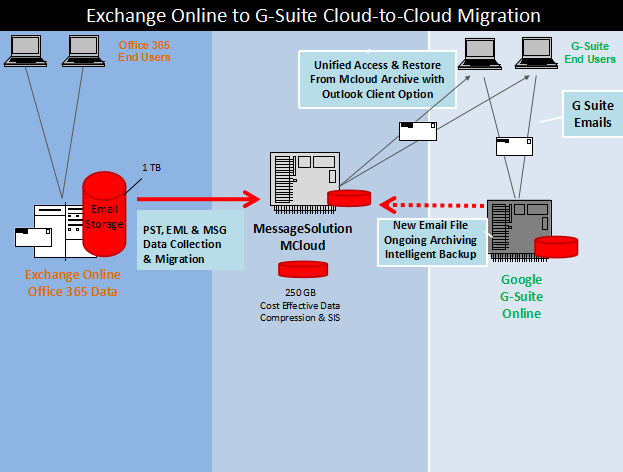 MCloud Solution reduces companies' email data volume for migration and only to less than 10% of data to migrate to expedite the migration process, reducing the time and cost required for the migration while continuing delivering the compliance, eDiscovery-readiness and data integraty with a complete email and file data-set on MessageSolution Platform as a backup, cost-effective for data migration to any directions, and convenient for all users with the Outlook access to all new or legacy email and file data.
Multiple eDiscovery Case Management and Review
MessageSolution - Your Email Migration and Enterprise Information Archiving Partner MessageSolution, Inc. is the ideal partner for organizations evaluating the implementation of an eMail server platform migration. Migrate from and to the email platform and you decide whether to archive before or after migration. Typically considered a daunting task, MessageSolution's consolidates steps, provides for compliance and achieves an efficient, high-value migration experience.